Social MADia
According to the Oxford Dictionaries Online quarterly update, "Technology remains a catalyst for emerging words and is reflected in new entries". Over the last five years, there has undoubtedly been a strong social media influence on today's social lexicon.
New acronyms like BYOD ("bring your own device") and FOMO ("fear of missing out": anxiety that an exciting or interesting event may currently be happening elsewhere) are examples of how we have change the way we define our environments, daily activities an even ourselves.
A couple of weeks ago, there was a big buzz about the word "selfie" being named the word of 2013. The word Selfie in fact can be traced back to 2002 when someone on an Australian online forum posted: "Um, drunk at a mates 21st, I tripped over and landed lip first (with front teeth coming a very close second) on a set of steps. I had…
View original post 390 more words
Waltika
See on Scoop.it – Walter's entrepreneur highlights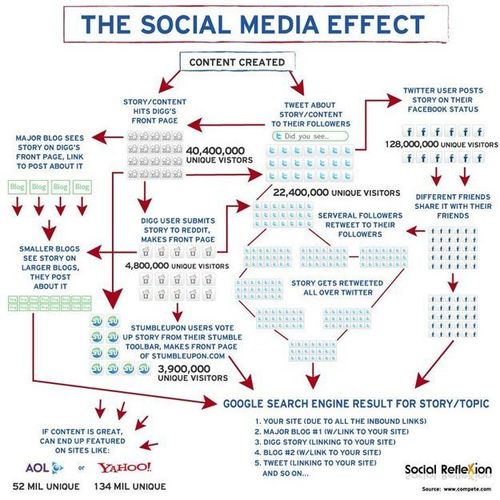 The Social Media Effect #socialmedia #effect #infographic #9dotstrategies @9Dot_Strategies
See on www.pinterest.com
Hey everyone!  Today I feel like posting something different. With Thanksgiving (one of my favorite holidays) on its way, I thought I'd share what I'm thankful for.  I try to maintain gratitude on a daily basis, so my list may get a little long.
I am thankful primarily for my friends and family who support me, believe in me, and inspire me to do well and live well. I am specifically thankful at the present time for my boyfriend who supports and loves me through everything, helps me, understands me, respects me, protects me and makes me laugh at least 10-30 times a day. I am thankful for my educational opportunities, my health, my wealth and all the love I give and receive each day. I am thankful for my challenges, which have brought me to a better understanding of myself and my place in life.  I am thankful for delicious food, for my skills like crocheting, drawing and helping people, and for the incredible views out my dorm room window.  Lastly, though I could keep going for pages and pages, I am thankful for the big world we live in. It may have its ugly times, places, sometimes people, but I try never to forget how majestic and wonderful it is.  There are always reasons to be thankful for the life we've got and the world we live in and there are always people who will help us.
I found such a great link from BuzzFeed called "35 Pictures That Prove The World Isn't Such A Bad Place" http://www.buzzfeed.com/daves4/the-world-isnt-such-a-bad-place
With all that said, I'm curious about what my readers are most thankful for. I always try to go back and see what I forgot, or what I may be taking for granted.
Lastly, thank you to all my readers and supporters. Thanks for following, commenting, liking and sharing my blog. Hope everyone has a great Thanksgiving and possibly enters a food coma shortly after the meal. Never forget how lucky we are. Don't get caught up in the unimportant things…